We present here some photographs of members of the Wishart family who have purchased and are wearing the Wishart Tartan.

George Rodger Wishart, and his wife Nan, of Arbroath in Scotland are pictured right. George is wearing the

Wishart Hunting Tartan, with the Wishart Crest on his sporran.

John Wishart of Edinburgh took to the hills to escape this photo (below), but our intrepid photographer caught up with him. John is wearing the

Wishart Dress Tartan, in a kilt which he has since worn round the world, with the Wishart Crest on his sporran. There's more of John in Australia, on wedding.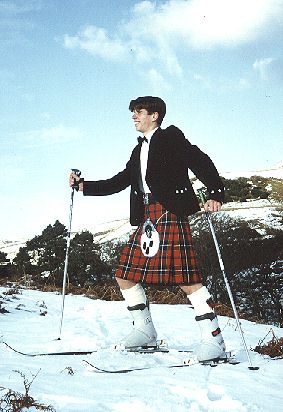 In the following photo, Ruaraidh Wishart stands at the Martyrs Monument at St. Andrews. The occasion was his graduation from the University of St. Andrews, with M.A. Hons in English Literature, in June 1999.
Ruaraidh is wearing a kilt in Wishart Hunting Tartan. If you look carefully, you might just make out the inscription on the monument which commemorates George Wishart, the family's Protestant martyr.
We believe Ruaraidh was the first to wear a Wishart tartan kilt at a graduation. His father, George Wishart, was delighted to see him graduate, celebrating in his Dress kilt (below) and later with a Scottish reel (inset).
George also sports his exceedingly smart tartan trews, in Hunting green (right). A very practical alternative to the kilt, and perfect for the golf course. We are always very pleased to supply Wishart tartan material so that you can have garments tailored to your own taste. All we ask is a photograph, please.
George Wishart (left) enjoys playing his accordian in his Wishart Hunting tartan kilt. Here we see him at a Hogmanay party, with his wife Nan (centre). On the right, their friend Bill Thornborrow sports his Wishart Hunting Tartan kilt outfit for a photo in the garden, Aug '99.
Here's a great one from the USA. It shows Rex Marshall Wisehart at the Colorado Springs Highland Games, which he regularly attends as our Wishart Society representative in the United States. Rex has had quite a few Wishart visitors to his booth since he started in '98. Any Wisharts in the US can contact Rex and his wife Judy at 969 East 7th Avenue, Broomfield, Colorado 80020, or by email.

This year, 2001, Judy and Rex plan to hang their tent in Keystone, on June 16-17; Evan on June 23; Highlands Ranch on August 10-12; Estes Park on September 7-9; and Grand Junction on September 22; all in Colorado. If your vicinity is one of the above, check them out. They'll be delighted.

On another page we have shown a small gathering of members of the Wishart family. They joined us to inaugurate a

plaque at the Castle, St. Andrews which commemorates the martyrdom of George Wishart.

Kilts are very popular at

weddings, of course, so we set aside a special section to record all our happy Wishart couples.

In the following photos, we show David Wishart and Jack Wishart playing a round. History doesn't record whether their putts went in; but they look happy enough by the fire at the 19th afterwards. Their waistcoats are in Wishart Hunting tartan, and were fashioned by Jack's daughter Morag.
We hope to add more photos as time permits. If you have a photo you would like to contribute, please send it to us; either an original (which we will return), as a compressed bitmap or as a jpeg file.